Lamb Ordering Information:
We are taking orders for lamb now! The first round of orders will be ready mid-December. Just in time for your holiday feasts.
Fill your freezer with NUTRITIOUS and tasty GRASS-FINISHED LAMB!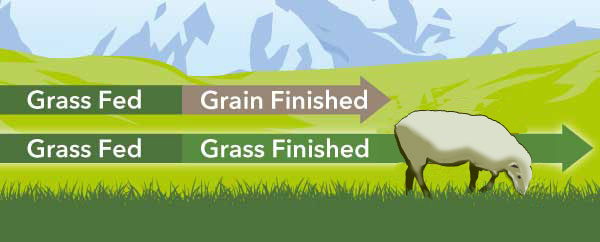 GRASS FED LAMB VS GRASS FINISHED LAMB.
Simply put, grass-finished lamb comes from livestock that ate nothing but grass and forage for their entire lives. Grass-fed, on the other hand, may be used to label meat from livestock that were started on a grass diet but have either received supplemental grain feed or are finished on a fully grain-based diet. There are lots of health benefits of grass finished meat.

Health Benefits of Grass Finished Lamb :
•Supports Healthy Blood Sugar Levels
•High In Omega-3's
•Contains Electrolytes
•Contains More Healthy Fats
•Contains Less Bacteria
•Decreases Your Risk of Heart Disease
Read article about the benefits of grass fed lamb.
Order Lamb Now!
LAMB Ordering Information:
We are now taking orders for our lambs, available between December 2022 and March 2023.
How Much Does the Meat Cost?
Our lamb is available by the whole animal.
The cost of your lamb will be based on "carcass weight." Carcass weight is what the animal weighs after being butchered and is typically about 50% of the live weight. Our grass-finished lambs will weigh approximately 100-120 lbs so the carcass weight will be about 50-60 lbs.
Our price for 2022 is $4.50 / lb carcass weight.

When comparing this purchase price of our grass finished lamb to regular lamb you buy at your supermarket or butcher's counter, you can figure that your grass finished meat will cost about $6.50 per lb. (Not including processing fees.) Of course, different cuts of lamb are more preciously priced at your grocery story (i.e. ground lamb burger vs. rack of lamb) and grass finished lamb at most butcher counters can cost between $10.00/lb for ground lamb to $18.00/lb for a rack of lamb. (National Monthly Grass Fed Lamb & Goat Report)

How Much Actual Meat Do I Get?
A whole lamb will produce about 35-45 pounds of edible processed meat.
Tongue to Tail?
We strongly encourage our customers to request and utilize everything they can from the processor. You are paying for the whole animal and you should get your money's worth! So ask the butcher to include the dog bones, soup bones, & organ meats in your order. Grass finished animals are high in "good" Omega's and those soup bones will make healthy soups and stews all winter long.
How Much are Processing Fees & When do I Pick up the Meat?
Our lambs are processed between December and March; depending on availability of butcher dates. Once your animal has been processed, weighed, and packaged, you'll be notified to come pick it up at the processors. Our December butcher location will be at The Branding Iron in Eureka. If you live outside the Eureka area, contact us for other arrangements. You will be responsible for paying the processing fees at the time you pick up your meat. Fees for a whole lamb range between $100-$160, depending on the butcher and the type of cuts.
Remember that you are purchasing a whole animal and we encourage you to ask for any parts of it that you can utilize; this includes dog bones, soup bones, organ meats, etc.

Branding Iron Butcher, Eureka, MT. Phone: 406-297-2611

Deposit
We require a $50.00 deposit to reserve your order, and we will send you an invoice for the remainder. Deposits are due at the time you place your order.
Deposit amount: $50 per lamb ordered. (2 lambs = $100)

Order Lamb Now!
Please contact Amy Driggs with questions:
Call/Text: 208-310-6664, Email: adriggs@graceyourplate.com
Treat your family for the holidays with a tasty Leg of Lamb Roast!
Recipe Idea
2023 Grace Products LLC | Eureka, MT | PH: 208-310-6664